A survey of people's shopping habits has been completed recently and they've come up with the top 10 list of the things that people hate when supermarket shopping. These figures were taken from a survey of 2500 people on their supermarket shopping habits.
There is no surprise on the number one issue - It was long queues at the check-outs with 62 per cent of the people surveyed stating this to be their big issue when shopping in a supermarket.
So why aren't the supermarkets doing anything about this! Well the fact is - They are!
Supermarkets are constantly looking at ways to improve customer experience. The reason they look at this is because the goal of all retailers is to improve customer loyalty and by improving the customer experience will increase the customer loyalty.
If a customer has a better experience at their supermarket compared to a rivals store that customer will come back. This will lead to increased number of store visits, increased dwell time in the store and less 'abandonment' of shopping due to wait times. The product of all these improvement is increased profit for the retailer as more loyal customers spend more of their hard earned cash with there chosen retailer.
Supermarket have therefore been reaching out to the people counting and tracking industry and finally we are seeing integrated solutions that look to half the amount of time we are stood in a queue during busy shopping periods.
The major difference between our supermarket retailers is their commitment to the 'early adopter' philosophy. The supermarket retailers fall into three types when it comes to adopter of technology to solve day to day operational problems.
1 - Earlier Adopters - looking at the best in-market technology, piloting it and rolling it out if proven to be successful
2 - Sit Back and see what everybody else does then we'll do it.
3 - Do nothing, as our product is cheap and as long as we get people coming in and buying we don't care.
I'm please to say that I've been working with a few of the early adopters and they are using a mixture of people counting and customer monitoring hardware to provide a early warning type system. The systems monitor the entering footfall traffic and predicts how many check outs will need to be opened to handle the potential check out traffic. Gone are the days where retailers can only react when they see the queue is already out of control.
The queue wait time and number of people in the queue is monitored as well to allow the retailer to scientifically monitor queue numbers along with the amount of time queued and use this data to drive and monitor improvements. This can change staffing schedules to ensure the correct number of trained checkout staff are on site in synchronisation with arriving customer volumes.
Improvements can be a simple as moving more staff onto the check outs or to invest in changing the type of checkouts from traditional trolley lane to express checkouts.
After self checkouts were pushed out into the cold a few years ago, not helped by released press articles stating queue time had actually increased at self scan checkouts. Now by monitoring the effect of the latest self scan check outs pilots the efficiencies of these new technologies can be easily proven.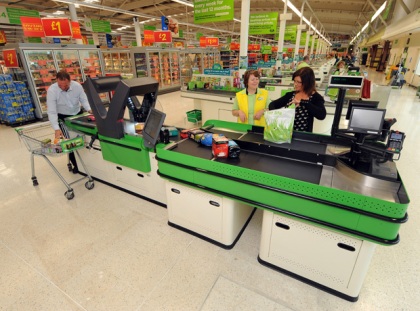 Maybe it is a case of not welcoming change into our favorite retailers that caused the initial back lash in the first place, but times have changed. Technology is more relieable and user friendly and customers have themselves adopted this technology. Or is the reported back lash just plain wrong and now has been proven wrong as we are measuring the queue times accuracy and reliably.
The next time you are doing your shopping and waiting to pay, you may wonder 'why is this supermarket not doing anything about the queue times', have a good look above you and see if you can spot the technology that is monitoring your experience.
If you can't see it, maybe you need to move supermarket?